Music and the arts are highly valued and integral to the Grace community.
Music at Grace
Under the leadership of our Director of Music we offer a program in the hope that it will help people deepen their experience and knowledge of God, as well as be the heartbeat of celebration and inspire and uplift our spirits.
The repertoire spans five centuries, and many languages and musical forms. See below for further details about our growing Music Programs, and see where you fit in!

Grace Church Choir
This semi-professional choir represents all voice parts and leads the 10:30 AM Sunday Eucharist, all major feasts, and special concerts during the academic year from September to June. We welcome any and all who wish to join us.
We rehearse Wednesday Evenings from 7:30 PM to 9:30 PM in the choir room, and meet again on Sunday morning at 9:45 AM in the Chancel to warm up for the 10:30 AM Eucharist.
New members are welcome to join us at any time! For more information please contact Andrew Kilkenny via email, telephone, or during church hours, he will be more than happy to answer any questions you might have.
Grace Youth Choir
The Grace Youth Choir rehearses Sundays from 12:30 PM to 1:30 PM.
Grace Carillon
Grace Episcopal Church is blessed to have one of four carillons in the state of New Jersey. The Grace Carillon was dedicated as a two octave carillon in March 1923.  Click here for details.
Grace Church Organ
The Grace Church Organ is a wonderful instrument to lead the liturgical and musical life of our congregation.  Click here for details.
Concert Series
Our Music Director has been working diligently with outside musicians as well as working with our choirs in order to start a concert series.
Director of Music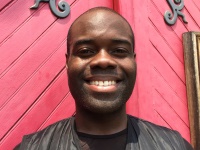 Andrew Kilkenny is currently the Director of Music here at Grace Church in the city of Plainfield, NJ. He grew up in the Episcopal Church and is very familiar with the wide range of Episcopal Church music. He is at ease with both its classical and contemporary expressions as well as blending more creative elements into the music program.
He studied piano privately before being accepted to Kean University where he continued to study performance. Mr. Kilkenny subsequently transferred to Rutgers University where he studied organ under the direction of Mark Trautman, a Rutgers music professor and the Director of Music at St. Paul's Episcopal Church in Englewood. Andrew has been faithful to sacred music for more than a decade and has had the opportunity to work with the music department of Christ Church in New Brunswick.
Andrew has also worked with many musicians, including the Kean University Choir and the Kean Chorale. He has given numerous solo recitals on organ and piano, as well as accompanied choirs and soloists and was part of performing chamber orchestras playing the continuo. As Director of Music Ministries, Mr. Kilkenny will continue to develop and expand our parish music program for all ages, seeking to more actively engage our neighborhood and the wider community as he works to involve additional voices and other instruments in the parish music program. As our primary musician, he will be the parish Organist and Choirmaster and play for all major liturgical events in the parish.
Mr. Kilkenny comes to us after serving as the Director of Music at Christ Episcopal Church in East Orange, NJ. Prior to that, he severed as Choirmaster and Organist at All Saints' Episcopal Church in Scotch Plains, NJ.
Contact Email: andrew@graceplainfield.org
Contact Number: (732) 991-6548
Tiffany and Stained Glass Windows
The Tiffany and Stained Glass Windows are yet another blessing at Grace Church.  Click here for details.
Grace Episcopal Church is listed on the New Jersey and National Registers of Historic Places.